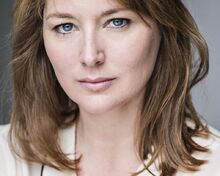 Beth Chalmers is an English actress and voice actress. She voices four mothers of the Doctor's companions in the Dr. Who radio dramas, The Big Finish. Along with her writing partner Amy Shindler, she has her own network television series called Pat and Cabbage. She also provides the voice of the Queen in the animated series, Jelly Jamm.
Ad blocker interference detected!
Wikia is a free-to-use site that makes money from advertising. We have a modified experience for viewers using ad blockers

Wikia is not accessible if you've made further modifications. Remove the custom ad blocker rule(s) and the page will load as expected.