Physical Information
Eyes:
black
Outfit:
Navy blue button up suit with white band,pale pink sash, navy blue pants and dark navy boots.
King is one of two rulers of
Jammbo
, along with his wife, the
Queen
. He thoroughly enjoys being king and creating arbitrary laws or relishing in the things that he is able to get because of his power, like toys and items. He spends most his time on "King Business" (what this actually entails is up for debate), but prefers to play video games or entertain himself with the many toys within his
Gift Vault
. (voiced by 
Adam Longworth
 (UK), Hector Garay (Spain), Peter Odring (US), Insana Tino (US on Disney Junior)).
Personality
Though he speaks in a quite regal manner, the King is pretty simple. He can be quite child-like, and in fact often acts like a misbehaving child.
Relationships
 Appearances
Songs
Gallery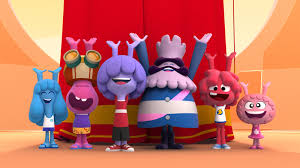 The image gallery for King may be viewed here.
Trivia 
Ad blocker interference detected!
Wikia is a free-to-use site that makes money from advertising. We have a modified experience for viewers using ad blockers

Wikia is not accessible if you've made further modifications. Remove the custom ad blocker rule(s) and the page will load as expected.