Physical Information
Eyes:
Black (occasionally shown to have pink irises)
Outfit:
Magenta dress with a white flower and magenta mary janes
Rita is one of five children living on Jammbo . Rita can be a cute well mannered little girl at one moment and climbing the walls the next. Her eagerness to experience everything in life can take from 0 to 60 in a millisecond, regardless of consequence or logic. When by herself Rita often plays with her favorite doll and best friend, Princess. (She is voiced by Isabella Blake-Thomas (UK), Sara Heras (Spain), Sam Lavagnino (US), Tara Strong (US on Disney Junior)).
Personality
Rita can be quite bossy, selfish and annoying at times, possibly due to the fact that she seems younger than the rest of the children.
Relationships
Rita is enamored with the Dodos and loves them very much. One of her favourite things to do is to play with the many Dodos that inhabit Jammbo, although she can sometimes be too rough or insistent in her play. Luckily for the Dodos she is typically not fast enough to catch them. When able to care for a Dodo in Rita Adopts a Dodo, Rita doesn't understand the dietary and physical needs of a Dodo, letting it gain a frightening amount of weight. Despite this that Rita is quite knowledgeable about Dodos, able to identify different types of Dodos and their likes and traits.
Appearances
Songs
Gallery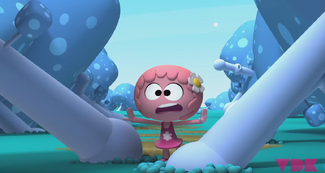 The image gallery for Rita may be viewed here.
Trivia